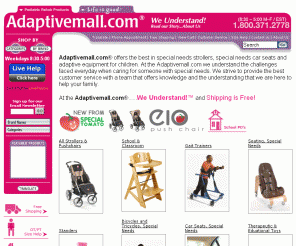 Special Needs Strollers, Special Needs Car Seats, Adaptive Equipment
Description:
Adaptive equipment, special needs strollers, special needs car seats and more available at Adaptivemall.com. Make Adaptivemall.com your adaptive equipment provider. Offering superior customer service plus on staff physical therapists to answer all of your adaptive equipment and special needs strollers questions. We understand.
Keywords:
special needs strollers, pushchairs, maclaren, special needs car seats, standers, tripp trapp chair, tumble forms, convaid strollers, sammons preston, snug seat, feeder seat, wedges, feeding chair, feeding seat, floor sitter, positioning chair, physical disabilities, cerebral palsy, adaptive positioning equipment, therapeutic positioning, assistive devices, walkers, wheel chair, etac, shower chair, tricycles, bath chairs, gait trainer, therapy ball, harness, toys, seating, swing, gait trainers, kaye walker, reverse walker, beds, crutches, toilet seat, seats, cerebral palsy, high chair, positioning, toilet, tumble forms, exercise, prone, therapy, feeding, rifton chair, corner chair, lifts, rifton, bicycle, bikes, mats, scooters, helmets, pony walker, toddler walker, booster seat, potty chair, swing, cane, car harness, crawler, prone, pediatric wheelchair, pediatrice wheel chair, pediatric wheelchairs, child wheelchair, child wheel chair, child wheel chairs, wheelchair, wheelchairs, mobility, seated walker, adjustable table, bailey chair, bench, bronco, crib, helmets, therapeutic and medical equipment, assistive technology, gait trainers, positioning, tables, push chairs, spina bifida
Tags:
adaptivemall
,
com
,
special
,
needs
,
adaptive
,
equipment
,
strollers
,
seats
,
car
,
positioning
,
standers
,
therapy
,
all
,
service
,
customer
,
toys
,
free
,
tricycles
,
good
,
chair
,
contact
,
walkers
,
gait
,
seating
,
therapeutic
,
trainers
,
eduational
,
help
,
new
,
pediatric
,
email
,
what
,
wheelchairs
,
products
,
bolsters
,
life
,
clothing
,
wedges
,
tables
,
lifts
,
Adaptivemall.com
Content Revalency: Title: 100.00% Description: 40.62% Keywords: 10.87% | Document size: 63,610 bytes
Alexa rank:
#905,725
Quantcast rank:
#96,968
More info:
Whois
-
Trace Route
-
RBL Check
DMOZ Information
Adaptivemall.com
Offers equipment for children with special needs including pediatric strollers, pediatric seating, child standers, pediatric walkers, modular positioning, therapy rolls and wedges, tricycles and swings.

Top/Shopping/Health/Disabilities/Assistive_Technology
http://www.adaptivemall.com

Adaptivemall.com has 1 URLs listed in 1 Dmoz categories.

Related Sites: Tecsol.com.au , Ablenetinc.com , Accessibilityproducts.com , Blvd.com , Tekability.com , Wisdomking.com , Aroga.com , Woodlaketechnologies.com , Orcca.com , Contactassist.com ,
ADAPTIVEMALL.COM - Site Location
Country/Flag
United States
City/Region/Zip Code
Sunnyvale, CA, 94089
Organization
Yahoo
Internet Service Provider
Yahoo!
ADAPTIVEMALL.COM - Domain Information
Domain
ADAPTIVEMALL.COM [ Traceroute RBL/DNSBL lookup ]
Registrar
PDR LTD. D/B/A PUBLICDOMAINREGISTRY.COM PDR Ltd. d/b/a PublicDomainRegistry.com
Registrar URL
http://www.publicdomainregistry.com
Whois server
whois.PublicDomainRegistry.com
Created
16-Mar-1998
Updated
03-Mar-2017
Expires
15-Mar-2018
Time Left
19 days 0 hours 1 minutes
Status
ok https://icann.org/epp#ok OK https://icann.org/epp#OK
DNS servers
YNS1.YAHOO.COM 66.218.71.205
YNS2.YAHOO.COM 66.196.84.168
yns1.yahoo.com 66.218.71.205
yns2.yahoo.com 66.196.84.168

Site Response Header
Response
HTTP/1.1 200 OK
Date
Thu, 06 Aug 2009 14:38:25 GMT
Content-Type
text/html
Cookie
BX=8tds6lh57lqn1&b=3&s=7a; expires=Tue, 02-Jun-2037 20:00:00 GMT; path=/; domain=.adaptivemall.com