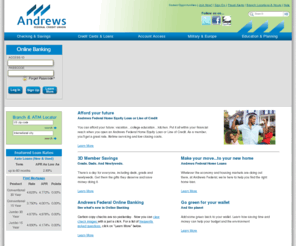 Andrews Federal Credit Union - Home Page
Description:
Andrews Federal Credit Union is a federally chartered credit union with its main office at Suitland in Maryland, USA. Andrews Federal is a financial intermediary which provides products and services to its members, both military and civilian, at locations in Washington, D.C., Maryland and New Jersey, USA, Germany, The Netherlands and Belgium.
Keywords:
Andrews Federal, Credit Union, military, Air Force, loans, mortgage, auto loans, credit cards, car loans, home equity, Washington DC, New Jersey, McGuire, Burlington, Wrightstown, Online Banking, Online Bill Pay, Andrews Air Force Base, Wuerzburg, Schweinfurt, Schinnen.
Tags:
andrewsfcu
,
blog
,
twitter
,
facebook
,
federal
,
andrews
,
credit
,
union
,
home
,
page
,
feed
,
rates
,
afcu
,
learn
,
loans
,
new
,
military
,
mortgage
,
cards
,
auto
,
locations
,
online
,
government
,
savings
,
branch
,
forms
,
publications
,
employees
,
education
,
opportunities
,
join
,
career
,
fraud
,
alerts
,
security
,
hours
,
check
,
images
,
view
,
checking
,
Andrewsfcu.org
Content Revalency: Title: 66.67% Description: 20.51% Keywords: 41.38% | Document size: 26,092 bytes
Alexa rank:
#686,532
Quantcast rank:
#64,539
More info:
Whois
-
Trace Route
-
RBL Check
DMOZ Information
Andrews Federal Credit Union
Serving military personnel assigned to Andrews or McGuire Air Force Bases, certain bases in Germany, The Netherlands and Belgium, and other select employee groups.

Top/Business/Financial_Services/Banking_Services/Credit_Unions/Regional/United_States
http://www.andrewsfcu.org/

Andrewsfcu.org has 1 URLs listed in 2 Dmoz categories.

Related Sites: Navyfcu.org , Penfed.org , Abecu.org , Truliantfcu.org , Riverfrontfcu.org , Usfed.org , Eastmancu.org , My1cu.com , Ecolabcu.com , Thinkcu.com ,
ANDREWSFCU.ORG - Site Location
Country/Flag
United States
City/Region/Zip Code
, ,
Organization
Andrews Federal Credit Union
Internet Service Provider
Verizon Business
Site Response Header
Response
HTTP/1.1 200 OK
Server
Apache
Date
Thu, 07 Apr 2011 20:58:57 GMT
Content-Type
text/html