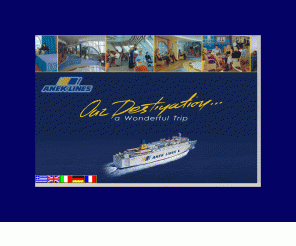 ANEK Lines - Official Web Site
Description:
Welcome to ANEK Lines - The Official ANEK Lines web portal. Book online your tickets to Italy, Crete, Dodecanese, Cyclades, NE Aegean and many more destinations. Check the timetables and our special prices and offers.
Keywords:
ferries from crete,ferries to crete,cretan ferries,ferries from iraklio,ferries from patras to venice,ferries from venice to patras,ferries from patras to trieste,ferries from trieste to patras,ferries from souda,ferries to souda,ferries from crete,ferries to crete,ferries from rethymno,ferries to rethymno,cretan ferries,ferries from iraklio,ferries to iraklio,ferries from chania,ferries to chania,ferries from hania,ferries to hania,ferries from kassos,ferries to kassos,ferries from karpathos,ferries to karpathos,ferries from rhodes,ferries to rhodes,ferries to chalki,ferries from chalki,ferries from sandorini,ferries to sandorini,ferries from anafi,ferries to anafi,ferries to chios,ferries from chios,ferries to mitilini,ferries from mitilini,ferries from limnos,ferries to limnos,ferries from kavala,ferries to kavala,ferries from thesaloniki,ferries to thesaloniki,online booking,ticketing,ferries from ancona to igoumenitsa,ferries from igoumenitsa to patra,ferries from venice to greece,ferries from greece to venice,ferries from greece,ferries to greece,cheap tickets,Greek islands holidays,Greece cruise,cheap mediterranean cruises,Aegean sea cruise schedules,greek transportation,greece transportation,Piraeus greece,the port of Piraeus, ferries Greece,ferries,Greek ferry boats,ferry boats,Greek islands,greek islands,Piraeus,ionian islands,greece,ferries,Greek ferries,Ferries Greece,Ferries Italy,Ferry Greece,Ferry Italy,Cruise Greece,Cruise Italy,Travel Greece,Travel Italy,Vacations Greece,Vacations Italy,Travelling Greece,Travelling Italy,ΑΚΤΟΠΛΟΙΑ,ΕΛΥΡΟΣ,ΒΕΝΙΖΕΛΟΣ,ΣΟΦΟΚΛΗΣ,ΛΕΥΚΑ ΟΡΗ,ΛΑΤΩ,ΛΙΣΣΟΣ,ΑΠΤΕΡΑ,ΠΡΕΒΕΛΗΣ,ΚΡΗΤΗ,ΧΑΝΙΑ,ΡΕΘΥΜΝΟ,ΗΡΑΚΛΕΙΟ,ΚΑΣΣΟΣ,ΚΑΡΠΑΘΟΣ,ΡΟΔΟΣ,ΧΑΛΚΗ,ΣΑΝΤΟΡΙΝΙ,ΑΝΑΦΗ,ΘΗΡΑ,ΧΙΟΣ,ΜΥΤΙΛΗΝΗ,ΛΗΜΝΟΣ,ΚΑΒΑΛΑ,ΘΕΣΣΑΛΟΝΙΚΗ,ΚΡΟΥΑΖΙΕΡΑ,ΒΕΝΕΤΙΑ,ΕΛΛΑΔΑ,ΑΔΡΙΑΤΙΚΗ,ΙΤΑΛΙΑ,ΔΙΑΚΟΠΕΣ,ΤΟΥΡΙΣΜΟΣ,ΝΗΣΙ,ΝΗΣΙΑ,ΧΑΡΤΗΣ,ΧΑΡΤΕΣ,ΣΟΥΔΑ,ΠΛΟΙΑ,ΠΛΟΙΟ,ΔΡΟΜΟΛΟΓΙΟ,ΔΡΟΜΟΛΟΓΙΑ,
Tags:
anek
,
version
,
lines
,
official
,
web
,
site
,
ferries
,
booking
,
line
,
ελληνική
,
french
,
έκδοση
,
english
,
italian
,
german
,
from
,
greece
,
italy
,
crete
,
Anek.gr
Content Revalency: Title: 0.00% Description: 0.00% Keywords: 0.00% | Document size: 8,978 bytes
Alexa rank:
#277,198
More info:
Whois
-
Trace Route
-
RBL Check
DMOZ Information
Anek Lines
Passenger ships that offers you services in Greek Domestic lines and International lines between Greece and Italy.

Top/Business/Transportation_and_Logistics/Maritime/Ship_Owners_and_Management/Ferries/Europe
http://www.anek.gr/

Anek.gr has 3 URLs listed in 5 Dmoz categories.

Related Sites: Hhferries.se , Mols-linien.dk , Scandlines.dk , Smyril-line.fo , Superfast.com , Virtuferries.com , Hoverline.se , Agoudimos-lines.com , Ferrimaroc.com , Minoan.gr ,
ANEK.GR - Site Location
Country/Flag
Greece
City/Region/Zip Code
Athens, 35,
Organization
OTEnet S.A.
Internet Service Provider
OTEnet S.A.
Site Response Header
Response
HTTP/1.1 200 OK
Server
Microsoft-IIS/6.0
Date
Thu, 17 Dec 2009 02:46:30 GMT
Content-Type
text/html