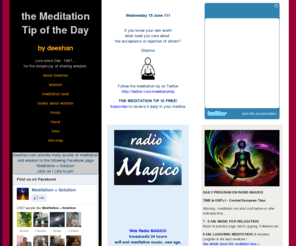 The Meditation Tip of the Day. Daily Wisdom
Description:
Daily wisdom from different sources, a different quote of meditation every day. Browse through the site to find more about wisdom, about creativity, about having fun.
Keywords:
meditation, spirituality, vipassana, buddha, tips, daily, wisdom, freedom, travels, creativity, have fun, jokes, quotes, osho, lao tzu, gurdjieff, krishnamurti, dhammapada, sosan, zen, consciousness, awareness, new man, life, beauty, photography, writings, drawings.
Tags:
deeshan
,
meditation
,
wisdom
,
daily
,
tip
,
day
,
radio
,
magico
,
zen
,
life
,
beauty
,
music
,
heart
,
email
,
respectful
,
flowers
,
playful
,
flower
,
details
,
books
,
com
,
quote
,
site
,
different
,
creativity
,
french
,
links
,
fun
,
game
,
transformation
,
say
,
tarot
,
map
,
meditationtip
,
holiday
,
website
,
apartments
,
rent
,
tuscany
,
great
,
Deeshan.com
Content Revalency: Title: 71.43% Description: 27.27% Keywords: 25.81% | Document size: 14,449 bytes
Alexa rank:
#722,574
Quantcast rank:
#516,630
More info:
Whois
-
Trace Route
-
RBL Check
DMOZ Information
The Meditation Tip of the Day
Daily wisdom from different sources. Daily quotation email available.

Top/Reference/Quotations/Daily_and_Random
http://www.deeshan.com

Deeshan.com has 2 URLs listed in 2 Dmoz categories.

Related Sites: Coolquotes.com , Thirdeyemultimedia.com , Geocities.com , Qotd.org , Funs.co.uk , Dailymessageonline.com , Hersheyskiss.com , Wisdomroad.com , Siracd.com , Noyemi.com ,
DEESHAN.COM - Site Location
Country/Flag
United States
City/Region/Zip Code
Los Angeles, CA, 90045
Organization
InMotion Hosting
Internet Service Provider
PacketExchange
DEESHAN.COM - Domain Information
Domain
DEESHAN.COM [ Traceroute RBL/DNSBL lookup ]
Registrar
Network Solutions, LLC. NETWORK SOLUTIONS, LLC.
Whois server
whois.verisign-grs.com
Created
19-Oct-1998
Updated
20-Aug-2017
Expires
18-Oct-2022
Time Left
1642 days 12 hours 1 minutes
Status
clientTransferProhibited https://icann.org/epp#clientTransferProhibited clientTransferProhibited https://icann.org/epp#clientTransferProhibited
DNS servers
NS.INMOTIONHOSTING.COM 216.193.219.167
NS2.INMOTIONHOSTING.COM 66.117.7.112

Site Response Header
Response
HTTP/1.1 200 OK
Server
Apache
Date
Sun, 10 Apr 2011 20:48:18 GMT
Content-Type
text/html