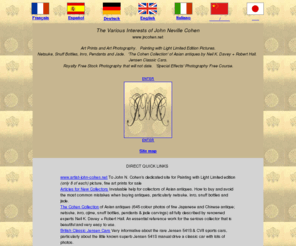 Netsuke, snuff bottles, Art, Limited Edition Prints, Photography, Classic Cars, Asian Antiques.
Description:
Painting with Light, Pictures, Art Prints. Netsuke, Inro, Snuff Bottles, Pendants and Jade. 'The Cohen Collection' of Asian antiques by Neil K. Davey Robert Hall. Jensen Classic Cars. Royalty Free Stock Photography. Photographic 'Special Effects' Free Course.
Keywords:
Art, prints, Asian antiques, Cohen collection, Collecting Inro, Collecting Netsuke, Chinese Snuff Bottles, Limited Edition Prints, Stock photography, Special effects, free photography course, Jensen 541S, Jensen CV8, British classic Jensen cars, Antique netsuke, Chinese Jade, Chinese Pendants, Cohen, Collecting Netsuke and Inro, Copyright free photos, Jade carvings, ojime, Japanese Inro, Japanese Lacquer, Japanese Netsuke, Netsuke, Netsuke and Inro, Reference, Neil Davey, Robert Hall, Snuff Bottle, Pendants, Jade, Japanese Lacquer inro, Inro, Royalty free, painting with light, Photographic magic, Photographer, Photography, Portfolio, Gallery Exhibition, Royalty free photos, Stock photos, Jensen cars, Jensen.
Tags:
fran
,
jncohen
,
french
,
enter
,
click
,
netsuke
,
photography
,
snuff
,
cars
,
prints
,
antiques
,
asian
,
bottles
,
classic
,
art
,
limited
,
edition
,
free
,
inro
,
jensen
,
jade
,
royalty
,
pendants
,
cohen
,
stock
,
japanese
,
robert
,
davey
,
hall
,
special
,
photographic
,
light
,
painting
,
course
,
neil
,
collection
,
effects
,
Jncohen.net
Content Revalency: Title: 0.00% Description: 0.00% Keywords: 0.00% | Document size: 48,645 bytes
More info:
Whois
-
Trace Route
-
RBL Check
DMOZ Information
Cohen, John
Portfolio of images, brief process overview, and reviews.

Top/Arts/Photography/Photographers/C
http://www.jncohen.net/Photography/

Jncohen.net has 2 URLs listed in 2 Dmoz categories.

Related Sites: Derekcooper.com , Fidelisimage.com , Angelfire.com , Coolidgephotography.com , 4t.com , Geocities.com , Compass-points.com , Stevenchurchill.com , Prazen.com , Bcncc.com ,
JNCOHEN.NET - Site Location
Country/Flag
United States
City/Region/Zip Code
Burlington, MA, 01803
Organization
Ecommerce Corporation
Internet Service Provider
Ecommerce Corporation
JNCOHEN.NET - Domain Information
Domain
JNCOHEN.NET [ Traceroute RBL/DNSBL lookup ]
Registrar
ENOM, INC. ENOM, INC.
Registrar URL
http://www.enom.com
Whois server
whois.enom.com
Created
05-May-1999
Updated
11-Dec-2015
Expires
05-May-2016
Time Left
0 days 0 hours 0 minutes
Status
clientDeleteProhibited http://www.icann.org/epp#clientDeleteProhibited clientTransferProhibited http://www.icann.org/epp#clientTransferProhibited clientTransferProhibited https://www.icann.org/epp#clientTransferProhibited
DNS servers
NS3.IXWEBHOSTING.COM 72.41.4.11
NS4.IXWEBHOSTING.COM 72.41.5.11

JNCOHEN.NET - DNS Information
IP Address
72.41.196.123 ~ Whois - Trace Route - RBL Check

Domain Name Servers
ns4.ixwebhosting.com
ns3.ixwebhosting.com

Mail Exchange
mail31.ixwebhosting.com

Site Response Header
Response
HTTP/1.1 200 OK
Server
Microsoft-IIS/5.0
Date
Tue, 12 Apr 2011 18:59:43 GMT
Content-Type
text/html