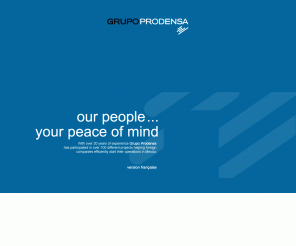 DMOZ Information
Grupo Prodensa
Provides assistance to foreign companies starting manufacturing operations or assembly processes. Offices in Garza Garcia, Saltillo, and San Luis Potosi.

Top/Regional/North_America/Mexico/Business_and_Economy/Industrial/Maquila
http://www.prodensa.com.mx/

Prodensa.com.mx has 1 URLs listed in 2 Dmoz categories.

Related Sites: Sheltermexico.com , Maqguide.com , Maquilamarket.com , Maquiladirectory.com , Maquilaportal.com , Focusmexico.com , Napsmexico.com , Theeverestgroup.com ,
PRODENSA.COM.MX - Site Location
Country/Flag
Mexico
City/Region/Zip Code
Zapopan, 14, 45150
Organization
Axtel
Internet Service Provider
Axtel, S.A.B. de C.V.
PRODENSA.COM.MX - DNS Information
IP Address
200.52.13.226 ~ Whois - Trace Route - RBL Check

Domain Name Servers
ns.telinet.com.mx 201.151.62.1

Mail Exchange
prodensa.no-ip.com
mail.prodensa.com.mx

Site Response Header
Response
HTTP/1.1 200 OK
Server
Microsoft-IIS/6.0
Date
Thu, 11 Mar 2010 22:02:51 GMT
Content-Type
text/html