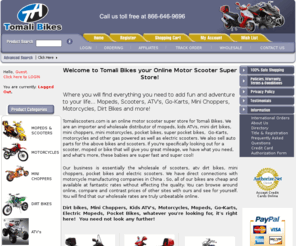 Wholesale Fast Mini Dirt Bike & Chopper, Gas Powered Moped Scooter, Cheap Super Pocket Bikes & Motorcycle, Kids ATV Dirt Bikes For Sale ? Tomali Scooters
Description:
Tomali Scooters is the online distributor of mini dirt bikes, gas powered scooter, electric mopeds, mini choppers, ATV, super pocket bikes and mini motorcycles at wholesale prices.
Keywords:
wholesale dirt bikes, cheap dirt bikes, dirt bikes for sale, kids dirt bikes, pocket dirt bikes, motorcycle dirt bikes, street legal dirt bikes, gas powered scooter, moped scooter, electric moped, mini chopper, mini dirt bikes, ATV dirt bikes, Cheap mini motorcycle, super pocket bike, mini pocket bike, gas mini chopper, mini chopper motorcycle, wholesale mini chopper, moped for sale, mini motorcycle sale, electric mini motorcycle, gas powered mini motorcycle, atv for sale, wholesale atv, online scooter store, wholesale pocket bikes, wholesale super pocket bike, wholesale pocket bike distributor, pocket bike at wholesale prices, buy scooter online, dirt bike store, dirt bike online store, cheap motorcycle for sale.
Tags:
tomaliscooters
,
mini
,
bikes
,
scooter
,
moped
,
pocket
,
super
,
dirt
,
bike
,
chopper
,
wholesale
,
motorcycle
,
atv
,
scooters
,
stroke
,
speedster
,
sale
,
kids
,
gas
,
powered
,
tomali
,
online
,
fast
,
cheap
,
motorcycles
,
mopeds
,
choppers
,
dragonfly
,
queen
,
touring
,
camino
,
road
,
trike
,
bigger
,
new
,
free
,
shipping
,
racing
,
large
,
race
,
Tomaliscooters.com
Content Revalency: Title: 95.24% Description: 79.17% Keywords: 81.48% | Document size: 29,112 bytes
Alexa rank:
#651,903
Quantcast rank:
#52,099
More info:
Whois
-
Trace Route
-
RBL Check
TOMALISCOOTERS.COM - Site Location
Country/Flag
United States
City/Region/Zip Code
Dallas, TX, 75244
Organization
ThePlanet.com Internet Services
Internet Service Provider
ThePlanet.com Internet Services
TOMALISCOOTERS.COM - Domain Information
Domain
TOMALISCOOTERS.COM [ Traceroute RBL/DNSBL lookup ]
Registrar
GODADDY.COM, LLC
Registrar URL
http://www.godaddy.com
Whois server
whois.godaddy.com
Created
18-Apr-2012
Updated
19-Apr-2017
Expires
18-Apr-2018
Time Left
85 days 1 hours 47 minutes
Status
clientDeleteProhibited https://icann.org/epp#clientDeleteProhibited clientRenewProhibited https://icann.org/epp#clientRenewProhibited clientTransferProhibited https://icann.org/epp#clientTransferProhibited clientUpdateProhibited https://icann.org/epp#clientUpdateProhibited
DNS servers
NS11.CLOUDNS.NET 109.201.133.194
NS12.CLOUDNS.NET 108.59.6.24
NS13.CLOUDNS.NET 188.241.115.14
NS14.CLOUDNS.NET 62.75.253.97

Site Response Header
Response
HTTP/1.1 200 OK
Server
Apache
Date
Sun, 17 Apr 2011 18:09:45 GMT
Content-Type
text/html; charset=iso-8859-1
Cookie
CFMAGIC=72054560%3A6214744afa9f9f6d%2D64A771A6%2DBFAC%2DE4C8%2D8CCE188EF23ACFC8;expires=Tue, 09-Apr-2041 18:09:46 GMT;path=/