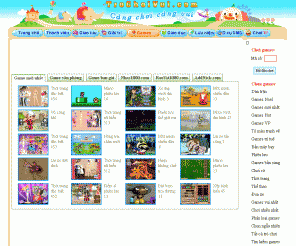 TroChoiVui.com - Kho game online khong lo voi 4790 tro choi | game mini | game hay | game viet
Description:
TroChoiVui.com - Cang choi cang vui. Hien co tren 4790 games vui nhon, game moi duoc cap nhat hang ngay.
Keywords:
game, games, gam, trochoi, tro choi, game viet nam, game flash, game viet, trochoiviet, giai tri, giaitri, online, truc tuyen, hoi vien, thieunhi, to mau, dau vat, tro choi moi, tro choi thu gian, trochoivui, tro choi vui, tro choi viet, viet game, game moi, game vui, the gioi, noel, giang sinh, chat, ket ban, y kien, thong bao, gui tang, qua tang, quang cao, gioi thieu, ban be, hoc sinh, truyen cuoi, hinh vui nhon, giao luu, suc khoe, tro choi hay, tro choi moi, trochoiviet, trochoiviec, trò choi, tròchoi, choi tro, kho game, kho games, khogames, khogame, dienthoai, didong.
Tags:
com
,
trochoivui
,
game
,
trang
,
chơi
,
vui
,
choi
,
cã
,
tro
,
games
,
viet
,
kho
,
trã²
,
hay
,
online
,
voi
,
mini
,
khong
,
chæ
,
súng
,
phiêu
,
tay
,
cang
,
khôi
,
moi
,
mario
,
nhon
,
bóng
,
ích
,
trò
,
với
,
sự
,
tã¢m
,
duoc
,
hien
,
cap
,
tren
,
hang
,
ngay
,
bạn
,
Trochoivui.com
Content Revalency: Title: 71.43% Description: 23.53% Keywords: 13.85% | Document size: 54,360 bytes
Alexa rank:
#39,395
More info:
Whois
-
Trace Route
-
RBL Check
DMOZ Information
Trò Chơi Vui
Bộ sưu tập các trò chơi Flash vui nhộn.

Top/World/Tiếng_Việt/Trò_chơi
http://trochoivui.com

Trochoivui.com has 1 URLs listed in 1 Dmoz categories.

Related Sites: Vietnamchess.com , Trochoiviet.com , Gamevn.com , Com.vn , Gamethu.net , Caucagiaitri.com , Net.vn , Tunghiaduong.com , Sudoku.vn , Covua.vn ,
TROCHOIVUI.COM - Site Location
Country/Flag
Vietnam
City/Region/Zip Code
Hanoi, 01,
Organization
Ho Chi Minh City Post and Telecom Company
Internet Service Provider
Vietnam Posts and Telecommunications (VNPT)
TROCHOIVUI.COM - Domain Information
Domain
TROCHOIVUI.COM [ Traceroute RBL/DNSBL lookup ]
Registrar
P.A. Viet Nam Company Limited P.A. Viet Nam Company Limited
Whois server
whois.verisign-grs.com
Created
14-Jun-2005
Updated
14-Jun-2017
Expires
14-Jun-2018
Time Left
108 days 6 hours 44 minutes
Status
clientTransferProhibited https://icann.org/epp#clientTransferProhibited clientTransferProhibited http://www.icann.org/epp#clientTransferProhibited
DNS servers
NS1.DOTVNDNS.VN 112.213.89.3
NS2.DOTVNDNS.VN 210.245.120.10
NSBAK.DOTVNDNS.COM 112.213.89.22
nsbak.dotvndns.com 112.213.89.22
ns1.dotvndns.vn 112.213.89.3
ns2.dotvndns.vnDNSSEC:Unsigned ns2.dotvndns.vnDNSSEC:Unsigned

Site Response Header
Response
HTTP/1.1 302 Moved Temporarily
Server
Microsoft-IIS/6.0
Date
Wed, 05 Aug 2009 11:32:12 GMT