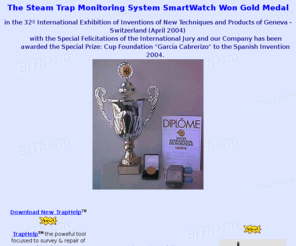 Steam Trap Monitoring System SmartWatch won Gold Medal in the 32 International Exhibition of Invention of Geneva - Switzerland. It has been awarded the Spezial Prize "Fondation García Cabrerizo". Intelligent Steam Traps. SmartWatch Steam Trap Monitoring System. SteamWatch Leak Detection System. Energy Saving and Environment Protection
Description:
Intelligent safety valves, intelligent steam traps, predictive maintenance, valve and steam trap testing, steam traps monitoring, leak detection
Keywords:
Safety valve monitoring, safety valve testing, safety valve leak detection,steam trap monitoring,steam trap testing,intelligent steam traps,steam trap efficiency,gas leak detection,steam leak detection,steam trap software,energy saving,SteamWatch,SmartWatch,ultrasound leak detection,wireless monitors,wireless instrumentation,wireless leak detection,wireless monitoring,portable ultrasound detectors, TrapHelp,LDAR programm,LDAR implementation,limitation of ultrasound leak detectors,steam trap versus condensate regulators,relief valve leak detection,vacuum leak detecttion,steam trap leak detection,steam trap survey, steam trap maintenance,monoblock steam traps,thermodymanic steam traps,thermostatic steam traps,inverted bucket steam traps,thermostatic steam trap,air vents,steam trap sizing,steam trap selection software,steam trap services,steam trap articles> <!--META http-equiv=
Tags:
bitherm
,
steam
,
smartwatch
,
trap
,
traps
,
intelligent
,
leak
,
traphelp
,
products
,
monitoring
,
new
,
wireless
,
english
,
español
,
portable
,
articles
,
detector
,
download
,
technical
,
manual
,
detection
,
international
,
steamwatch
,
awarded
,
won
,
geneva
,
invention
,
switzerland
,
exhibition
,
prize
,
cabrerizo
,
garcía
,
medal
,
gold
,
valve
,
condensado
,
traphelptm
,
special
,
energy
,
purgadores
,
Bitherm.com
Content Revalency: Title: 54.29% Description: 35.71% Keywords: 21.15% | Document size: 10,685 bytes
More info:
Whois
-
Trace Route
-
RBL Check
BITHERM.COM - Site Location
Country/Flag
Spain
City/Region/Zip Code
, ,
Organization
Infortelecom Hosting, S.L.
Internet Service Provider
Access Basic Server S.L.
BITHERM.COM - Domain Information
Domain
BITHERM.COM [ Traceroute RBL/DNSBL lookup ]
Registrar
ENOM, INC. ENOM, INC.
Registrar URL
http://www.enom.com
Whois server
whois.enom.com
Created
22-Sep-1997
Updated
15-Sep-2016
Expires
21-Sep-2017
Time Left
0 days 0 hours 0 minutes
Status
clientTransferProhibited https://icann.org/epp#clientTransferProhibited clientTransferProhibited https://www.icann.org/epp#clientTransferProhibited
DNS servers
NS1.SOLTECSIS.COM 94.127.184.242
NS2.SOLTECSIS.COM 94.127.184.243

Site Response Header
Response
HTTP/1.1 200 OK
Server
Apache
Date
Sat, 09 Apr 2011 05:58:32 GMT
Content-Type
text/html